Customized Training for Family Business Stakeholders and Advisors
Managing or owning a family business is complex. Successfully navigating transitions in family business is even more so. Continuity's specialized training programs help family business stakeholders and advisors understand and thus avoid unique pitfalls for enterprising families. Learning to negotiate issues facing current and next-generation managers, owners, and advisors can protect the business and important relationships.
Conflict Management Training for Enterprising Families
Learn how to work well together through challenge and protect lasting relationships. Continuity is known for expertise in managing conflict within families that share business and other assets. Trainings can be tailored to your family's needs.
Family Business Advisor Training
Continuity's customized trainings for legal, wealth managers, and other advisors help you maximize your service impact. Learn to understand the complex dynamics at play in the organizations and relationships of the families you serve to help them move through complexity with greater ease—and succeed.
Family Retreat Facilitation
A well-produced retreat renews the collective energy beyond the event itself—mobilizing stakeholders around shared perspectives and insights to prepare for new challenges and opportunities. Expert facilitation ensures these meetings are productive and meet expectations. Schedule your retreat.
"Luck is where preparation meets opportunity." Seneca
Looking for something a little different? Contact Us to customize a training or retreat for your group.
Director of Training, Arline Kardasis, shares how training can reinforce the overall impact of Continuity's work with enterprising families.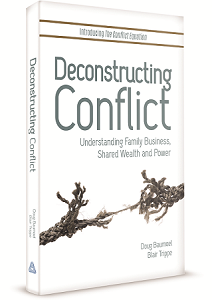 Deconstructing Conflict: Understanding Family Business, Shared Wealth and Power Doug Baumoel and Blair Trippe The book draws upon nearly fifteen years of experience in which Baumoel and Trippe have helped scores of enterprising families navigate the challenges of owning and managing together as family. Learn More