How We Work
We strive to provide actionable solutions for families across a wide range of budgets and timeframes. To that end, our services include comprehensive consulting with clear deliverables as well as retreat and meeting facilitation, and coaching services.
Our consulting work is divided into 3 phases: Assessment, Plan Development, Implementation. We typically work as a team of a 2 consultants for our assessment and plan development phases. The team is selected based on gender or skill-set balance. The benefit of having 2 consultants who have spoken with all the key stakeholders and who have both reviewed all the agreements and company information is crucial:
It enables the team to discuss what each heard and how they interpret what is going on and, in so doing, achieve much deeper insight into each stakeholder and the overall situation.
It allows for a robust testing of ideas, challenging of perspectives and the ability to role play and think through the impact of possible options prior to introducing the options to the family. We often say that we 'fight it out' so you don't have to.
Having 2 consultants, especially with a gender or other balance, improves the ability for stakeholders to connect with the team – thus providing better engagement and information.
Clients can count on the availability of a consultant at a moments notice.
The economies of scale of having two people on each engagement is significant and this efficiency is passed on to the client so we can provide better service at reasonable cost.
The implementation phase depends on what decisions are made as a result of the first two phases of work. Many of the decisions can often be implemented by decision alone, requiring no additional work. Some decisions may require the inclusion of collaborative advisors such as attorneys, valuation, or other consultants. Some decisions may benefit from ongoing support from Continuity consultants. This is priced separately and proposed at the end of the first two phases of work.
Save
Save
Save
'Doug and Blair's work is cutting edge… the emergence of their services is fantastic and brings a very high level of sophisticated service in helping families navigate through these tumultuous waters.'
Attorney Roy Kozupsky, Partner at Moses & Singer, discusses bringing his clients to Continuity Family Business Consulting and how Doug Baumoel's and Blair Trippe's approach impacts those families.
Purpose of Consulting
We believe that the purpose of consulting is to help all stakeholders better understand each other and the resources they share and control together so they can leverage those resources to advance opportunities and manage risk. We work to understand the interests and concerns of all stakeholders so that we can forge the alignment and trust needed for them to make timely and effective decisions together. Then, by analyzing shared assets, businesses, agreements, and the marketplace, we develop options and recommendations to maximize stakeholder impact. Our goal is to enable stakeholders to act together to advance shared interests, while managing the risks they face.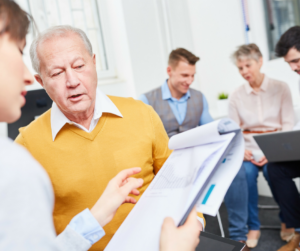 Our goal is to provide more than just good ideas; it is to advance stakeholder relationships, skills and understanding so that good ideas can be acted upon in a timely manner. We do not arrive with a checklist of best practices or precast structures to sell you. What may have worked for other families might offer insight, but we believe that the best practice for your family business hasn't been written yet and can only be useful when each appropriate stakeholder has participated in its creation.
During our work, we look for every opportunity to deepen understanding and alignment of family members, and strengthen the commitment to being family. An aligned, informed and trusting family is a family businesses most important competitive advantage.
Core to our work is an understanding that the main threat to families who share ownership of significant assets is poorly managed conflict. Tension and conflict are inherent in family enterprise and successful families have learned how to deal with difficulties along the way. Whatever the focus of our work – whether succession planning, governance development or organizational development – we assess where are the landmines today and in the future; where do the remnants of past conflict still impact the system so we can defuse and avoid current and potential disruption to progress.
Save
Save
Save