Schedule a Continuity Family Business Expert for Your Next Event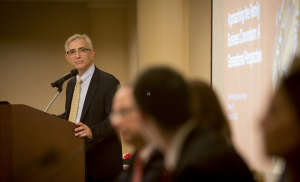 Continuity's team of established subject matter experts, headed by partners Doug Baumoel and Blair Trippe, offer years of experience in the development and delivery of customized programs on an array of family enterprise topics.
Our offerings are valuable for family business executives, family stakeholders, attorneys, mediators, financial advisors, psychologists, and professional societies. Our content expertise can be customized for family meetings, keynotes, workshops, or any other suitable format.
Programs can range from one hour in length to a full day. We often supplement the core curriculum with management and communications training to ensure effective integration of the program learnings with a client's ongoing developmental agenda.
Topics include:
Managing Family Business Conflict
Compensation in Family Business
Integrating Non-Family Managers and Executives in the Family Business
Business In-Laws: Becoming unifiers rather than polarizing forces
Understanding the inherently conflicting roles and functions in a family business
Effective Communication Practices
Understanding Financial Statements: Finance for the Non-Financial Manager
Estate Planning Considerations for Family Business Owners and Inheritors
Minority Ownership of a Family Business: Risks, Rewards, and Responsibilities
Managing Family Business Conflict: A comprehensive approach when continuing relationships matter
Collaborative Opportunities for Mediators, Lawyers, Consultants, and Therapists
Governance topics:
Why family business boards are different and how to build them
Your First Board: Retaining control while moving forward
Considerations for non-family board membership
Conducting Successful Family Business Retreats
Family systems topics:
A roadmap to understanding family systems
Mediation Techniques for Resolving Family Disputes
Conflict Resolution Skills
Managing Sibling Wealth Disparity
Succession and Exit Planning Strategies: Evaluating Difficult Decisions
The Five-System Model of Family Business
Continuity's portfolio of events can be found here.