The Smith Family Business Center at the Johnson School, Cornell University, reprinted the main article from the inaugural edition of Continuity's new E-Letter, Deconstructing Conflict. #CornellFamilyBiz wrote, "Doug Baumoel ('78) and Blair Trippe share some of their recent findings based on years of work with family businesses and dispel a few of the myths surrounding conflict."
---
Celebrating Our New Book!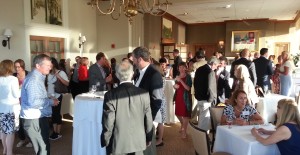 The Continuity team celebrated publication of Deconstructing Conflict with a gala reception for friends, family, clients and professional colleagues on Tuesday evening, August 30, at the Harvard Club in downtown Boston.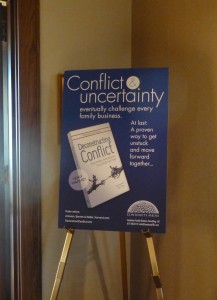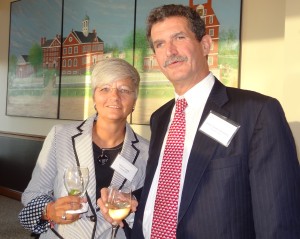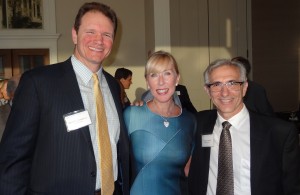 ---
A New Book Unpacks the Drivers of Conflict in Family Business and Why Managing That Conflict is the Most Critical Factor for Success
Authors Doug Baumoel and Blair Trippe Offer a Cutting-Edge Tool for Keeping Conflict from Damaging Both the Family and its Enterprise
(August 30, 2016 – Boston, Mass.)  A new book by two of the leading innovators in conflict management for family businesses unpacks the complex dynamics involved with families who share ownership, wealth and power together – and provides a cutting-edge tool for understanding the kind of conflict that is unique to enterprising families so that family stakeholders and their trusted advisors can achieve generational success.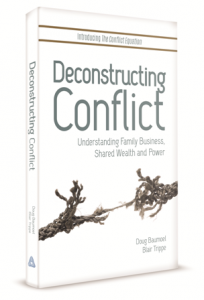 The book, Deconstructing Conflict: Understanding Family Business, Shared Wealth and Power, draws upon nearly fifteen years of experience in which the authors, Doug Baumoel and Blair Trippe, have helped scores of enterprising families and their companies – from a few million dollars in revenue to a net worth of several billion – navigate the challenges of shared management, ownership and economic interests.
Deconstructing Conflict addresses a core issue for a leading sector of the global economy that comprises one-third of the firms on the S&P 500 and where in the U.S. alone, sixty percent of GNP is derived and over 90% of all new jobs are created. With a perspective garnered from a breadth of business contexts, Baumoel and Trippe concluded that the most critical success factor for stakeholders in family enterprise is their ability to manage the inherent conflicts of sharing power and wealth. They developed a unique and powerful approach to improving the understanding of this type of conflict and a methodology for managing it, known as "The Conflict Equation."
In the book, Baumoel and Trippe outline five foundational concepts to help readers deconstruct conflict into its component parts. They provide an in-depth look into the reasons that underlie all conflict, what triggers active conflict, and why the potential for conflict in family business systems is so high. Deconstructing Conflict guides family members and their advisors in more effectively managing outright conflict, preventing unintended conflict, and getting unstuck when they are paralyzed by fear of conflict.
"When families go to war over business, wealth or power, or when family issues overwhelm sound economic decision-making, everyone loses," explains Doug Baumoel.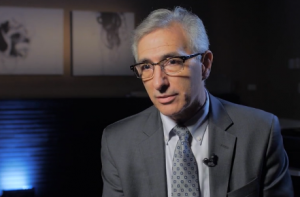 "From our perspective of having worked with family firm leaders and other stakeholders, family councils and boards as well as a host of trusted advisors who serve them, we have realized that the conflict inherent in family businesses is poorly understood – and that how it is managed can be the difference between success and failure."
"The learning that we have acquired has guided the development of an antidote to the systemic, often extreme and intractable conflict that plagues many family members in business together," adds Blair Trippe. "The conflict that is built into the organizational structures of a family enterprise is identity-based and comes out of strongly held, self-defining values, beliefs and roles. As a result, families find themselves getting stuck in a myriad of ways. It becomes difficult to move forward in a unique human system where stakeholders cannot just compromise and walk away but must maintain healthy relationships because they are critical to their shared business success and wealth."
A Robust Tool and Methodology for the Breadth of Family Enterprise
Since economic, emotional and relationship issues are locked together in family enterprise, conflict must be addressed in an integrated and comprehensive manner. It does not typically respond to the dispute resolution approaches that are often applied in similar situations involving unrelated parties. In addition, family therapy and psychology alone cannot provide adequate solutions to these complex and intense situations.
While "The Conflict Equation" that Baumoel and Trippe have developed is derived from their work with family businesses and enterprising families of significant size and complexity, the methods presented in Deconstructing Conflict are equally applicable to smaller businesses and can work in the boardroom as easily as around the dining room table.
Baumoel and Trippe designed "The Conflict Equation" from a perspective that family business conflict has more in common with ethnic, political and religious conflict than it does with the kind of non-family, civil disputes that dominate the daily headlines.
The authors contend that, viewed through this lens, studying conflict in a family enterprise is the perfect crucible for a better understanding of the many global conflicts that seem intractable; conversely, looking at how political and ethnic conflict on the world stage is managed can improve the approaches to the human system within enterprising families. Along with various illustrations and citations, Deconstructing Conflict includes a Foreward by Tim Phillips, CEO and Co-Founder of Beyond Conflict, a firm that engages with global leaders and communities on achieving progress in peace talks, transitions to democracy, and national reconciliations.
Deconstructing Conflict is available directly at the authors' web site, DeconstructConflict.com. The book is also available in print and E-book format at Amazon.com, Barnes & Noble online, and the Harvard Book Store online.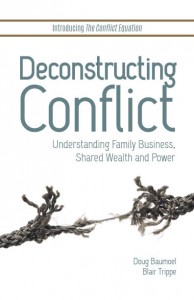 Click this book icon to download a Sneak Peek.
---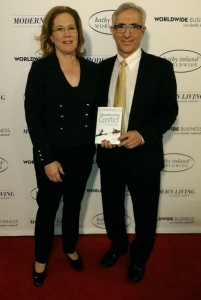 (Los Angeles, CA – May 20, 2016) Continuity LLC Partners Doug Baumoel and Blair Trippe enjoyed a red carpet day in Los Angeles for the taping of their upcoming segment on "Worldwide Business" (WWB) with Kathy Ireland.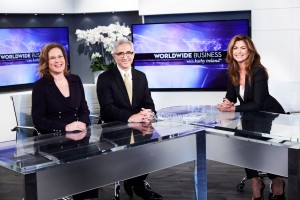 The sponsored program will provide an opportunity to showcase their new book, Deconstructing Conflict: Understanding Family Business, Shared Wealth and Power. The segment will air Sunday, September 18, on Fox Business News at 5:30 p.m. EST and globally over Bloomberg International TV.
It will include a field report from one of Continuity's recent conflict management workshops. It will also air the same day on Bloomberg EMEA; Bloomberg Latin America; and Bloomberg Asia Pacific. Watch the program now on Continuity's YouTube Channel.
---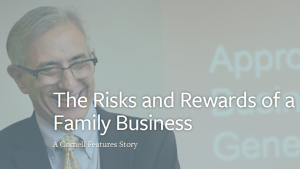 "The Risks and Rewards of a Family Business" Cornell University Features Continuity Founding Partner Doug Baumoel is profiled for this series, which highlights alumni, faculty and students who are expanding the boundaries of research and discovery, dedicating their time and talent to the greater good, and leading the way in business and culture through innovation and ingenuity.
---

"Don't Let Family Fights Tank the Family Business" The Fiscal Times October 2, 2014
The greatest strength of a family business – namely, the human element – can also be its greatest weakness. When family members are working well together, they can help drive some of the most successful businesses in the world. Continuity Founding Partner Doug Baumoel and Senior Consultant Douglas Box offer their insights.
---

"10 Questions for Your Family Business Consultant" Worth magazine June 1, 2013
Mixing blood and business can be like trying to blend oil and water. This article guides readers in what to ask the professionals who say they can help. Continuity Managing Partner Blair Trippe adds her perspective.
---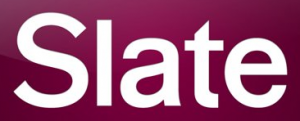 "The Ties That Blind" Slate magazine February 9, 2012
It's tough enough making decisions about elderly parents. What if you don't like the siblings you have to agree with? But as your parents age and die, you may be forced to make fateful decisions with siblings you spent most of your life barely tolerating. Continuity Managing Partner Blair Trippe contributes her perspective.