Conflict Management for Family Business Stakeholders
The Continuity "Conflict Management" Methodology
The most critical success factor for family business and families of wealth is the ability to manage conflict effectively. Developing conflict management skills to navigate differences helps family businesses succeed and preserve lasting relationships.
A Unique Approach: Address Conflict at Its Core
Going beyond traditional dispute resolution techniques, Continuity's conflict management methodology addresses the underlying structural and personal issues that are the basis of the family enterprise system.
We consider the interests of all stakeholders and present families with realistic, actionable options. These might include changes to the business organization to improve transparency, accountability, or role definition. We collaborate with family stakeholders to get families unstuck and to grow out of conflict.
Continuity's family business conflict management process is highly effective for:
Developing succession plans for leadership and ownership
Navigating the evolving responsibilities of shared business ownership and management
Dealing with wealth disparity between family branches
Developing family employment and compensation policies
Mobilizing teams to become unstuck
Improving communication and dispute resolution skills among stakeholders
Aligning and accommodating diverse stakeholder values
Crafting a shared vision and united strategies
Forging family unity and engagement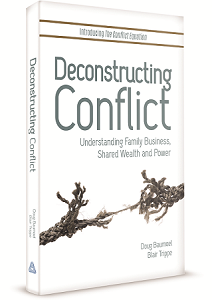 Deconstructing Conflict: Understanding Family Business, Shared Wealth and Power
Doug Baumoel and Blair Trippe
The book draws upon nearly fifteen years of experience in which Baumoel and Trippe have helped scores of enterprising families navigate the challenges of owning and managing together as family.
Balance Business Planning and Protecting Relationships
Continuity is uniquely prepared to guide family members through a range of crisis situations by helping them make smart decisions in a timely manner, even under stress. We minimize upheaval, supporting business stability and ongoing pursuit of opportunity.
Our team of specialized professionals includes certified mediators to address individual disputes and facilitate stakeholder meetings as part of our broader conflict management. We have worked successfully with family members and their trusted legal advisors at every stage of conflict – from those working preventively to keep differences from exploding into conflict to those in extreme crisis and litigation.
For cases in which litigation is active or threatened, mediators with particular expertise in family business issues – and experience in other types of alternative dispute resolution, such as collaborative law, arbitration and consensus building – can provide options families might not have known were possible.
Family Business Conflict Management Training
Expert training to help family business stakeholders and advisors understand and manage conflict.
Partner Blair Trippe explains Continuity's unique developmental approach to managing the inherent conflict in family enterprise.
Our crisis management approach includes:
A comprehensive, fast-tracked assessment
Thorough analysis of the correlating issues
Vetting of the most viable remedies, with a clear articulation of the ramifications
Recruitment and facilitation of an expert team – including appropriate internal and external specialists as well as interim professionals (as may be required)
Scenario-contingency planning